History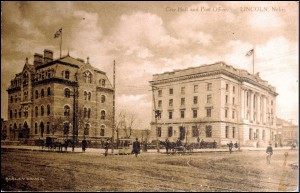 Construction of the building now known as the Grand Manse began in 1904 on the north half of the block called Government Square. The building reflects the Beaux Arts Neoclassical style that was popular in North America from 1885 to 1920, particularly for government buildings. The flat roof surrounded by the decorative railing and ornate, sculpted columns of the Grand Manse are typical of this style. This regal building is listed on the National Registry of Historic Places.
The first portion of the building was completed in 1906 on the east end of the block. Later editions were built in 1915-16 and 1939-41. The building was both the U.S. Post Office and Federal Courthouse. Today, it is often still referred to as the Old Federal Building.
The Grand Manse shares Government Square with two other historic buildings. The oldest, known as Old City Hall, sits on the south side of the block facing O Street. The small building at the west end of the block, now the Grand Manse Pavilion, was built in 1924 as a public comfort station.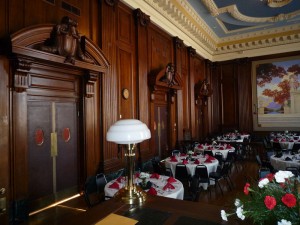 The interior of the building contains some stunning historical features including terrazzo floors, marble wainscoting and oak Corinthian pillars. These features are showcased in the east lobby and the third floor courtroom, now called The Grand Hall.
The infrastructure of the Grand Manse was completely renovated in 2004. Today, owners Monte and Lisa Froehlich are dedicated to once again making the Grand Manse a hub in downtown Lincoln. The building now houses 50 residential units, beautiful event space, luxury lodging suites, a coffee house, Thai restaurant, and several offices. The Grand Manse stands not only at the geographical crossroads of Lincoln, but at the intersection between the city's rich past and it's promising future.