Corporate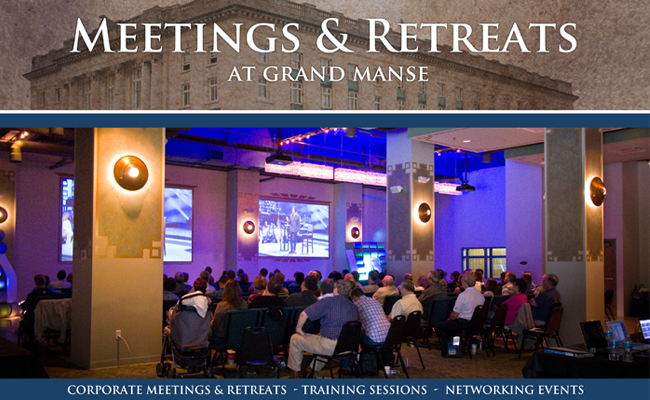 The Grand Manse can accommodate your business meeting or event in any of our event spaces, whether it be a large corporate meeting, or a business luncheon. Our Jasmine Room has an antique bar, French Doors that open onto a spacious patio, many original architectural features and soaring sky-lit ceilings provide a dramatic backdrop for your  event. The Jasmine Room has three, high-definition projectors, LED lighting and a sound system including a wireless microphone and seating capacity for up to 400 attendees.
Stepping outside the office will keep your employees energized and help increase productivity. . . just by changing location for a meeting. The Grand Manse is the former federal building which still retains great historical elegance with a grand marble staircase, the Grand Hall, which once served as the federal courtroom, and details that savor the history from the early 1900s.  Add some history to your meeting by taking a History Tour of the Grand Manse.
Out of Town Business Guests
Welcome your business guests to Lincoln and impress them by providing housing  in one of the Grand Manse's lodging suites. The Liberty Suite is a 2 bedroom, 2 bathroom suite which will make your guest feel like they are staying in the most luxurious suite in Lincoln, and the Pavilion, a stand alone building featuring a private roofdeck, can sleep 4 people and will make your guest feel right at home in downtown Lincoln. The Roydon Suite is our newest suite, 2 bedrooms, 1 bathroom, high ceilings, and a view to the historic Haymarket District.
Click below for more details on our Lodging Suites
Liberty Suite   |   The Pavilion   |   Penthouse   |   Roydon Suite
Holiday Party
Add some spice to your holiday party by hosting it at the Grand Manse!
Call us today at 402.476.4560 to set up a tour of the Grand Manse for your next business meeting!
Or email us at event@grandmanse.com